March 17, 2021
Relocating After Divorce: What You Need to Know
---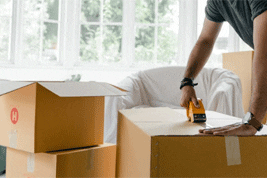 Moving on after divorce can be tricky, but one of the best ways to move on may be by actually moving. Relocation offers you a new environment that isn't necessarily riddled with what may now be painful memories or chance encounters. Divorce is a difficult event in life to go through, regardless of if it's amicable or not. Getting a fresh start can be the best counter remedy to improve many aspects of your post-divorce life. Still, after making the decision to relocate there are some key things you should be aware of and take into consideration.
Acknowledge the Significance of the Life Events
This is a dual transition period for you. Divorce and relocating are both major changes in your life that require you to work through them, as neither can happen all at once, and may take several steps to get to the end result. As you adjust to each life event, be sure to utilize any and all resources available to you. For example, simply reading books that'll help you survive your divorce or following a guide for a smooth relocation can be lifesavers in either situation.
Set Up Your New Home
By relocating, you're able to get a fresh beginning and start this next chapter of your life on your own terms. One of the most important factors to take into consideration is knowing where you plan to live. Remember, you now only have your own personal income and finance history to back you up instead of the duality from when you were married. Some things you'll need to know before starting the process include details such as how much house you can afford, if you have the minimum credit score to buy a house and knowing what neighborhood you would prefer. From there you can make personal touches to truly make your new house your own.
Schedule a Free Mediation Consultation
Immerse Yourself in Your New City
One of the best parts of relocating after your divorce is getting the opportunity to fall in love again, only this time with your new city. While adjusting to new places can take some time and/or getting used to, there's no better way to get to know this new place than just jumping right in. Every town, city or even neighborhood has its own unique quirks, and knowing what those are can help you feel like a local in no time. Look for local guides for recommendations created by people who know and live in the area. If you've moved to a historical location, you can also learn more about it by visiting museums. This way you can learn about the place you're now calling home while also supporting a local establishment.
Find New Friendships
Making friends as an adult is difficult; it becomes even more so when you're starting over in a brand new location. This is where your hobbies and interests will most benefit you. Be smart about looking for new friends both post-divorce and in a new place by finding people who understand your experience and also share your interests. It doesn't matter if you meet them through your kids, at a coffee shop, or in a support group. All that matters is that you have people who can understand you and who you can do the things you enjoy with. When you've just uprooted your life through a divorce and relocation, having the support of friends is more important than ever before.
Watch a Video About Divorce in Massachusetts
Determine What Co-Parenting Will Look Like
Relocating post-divorce will not only impact you, but also your children. They are also going through a major shift in their life and will need all the support you can offer them. Moving between two houses can be hard enough, and it becomes even harder when you add a new town to the mix. Your relocation will also play a role in how you and your now ex develop your co-parenting plan. If you have primary custody, you'll need to account for visitation and getting your children to and from their other parent, as well as getting your kids situated at a new school, in new activities and in your new home.
There are many different factors to take into account when relocating post-divorce. Remember, this is your opportunity at a fresh start. While there are sure to be some tough adjustments, it is also a liberating experience. Take advantage of that and make the most of this opportunity.