March 8, 2018
Negotiation Lessons from United Airline's Bonus Lottery Plan
By Chuck Doran and Megan Winkeler
It took United Airlines three days to "press the pause button" on their new core4 Score Rewards program. The program replaced employees' quarterly performance bonuses with a chances to win prizes quarterly including, "cash ranging from $2,000 to $40,000, luxury cars, vacation packages, and a grand of prize of $100,000 awarded to one eligible employee per quarter."  There was immediate backlash from employees who disliked the lottery system, with reactions published on the company's online employee board, a Change.org petition, and Twitter. Incensed employees lamented losing up to $1,500 per year in bonuses so that a lucky few could reap sizable benefits; one person said that it "made us feel precisely like Clark Griswald felt when awarded the jelly-of-the-month club membership" in reference to National Lampoon's Christmas Vacation.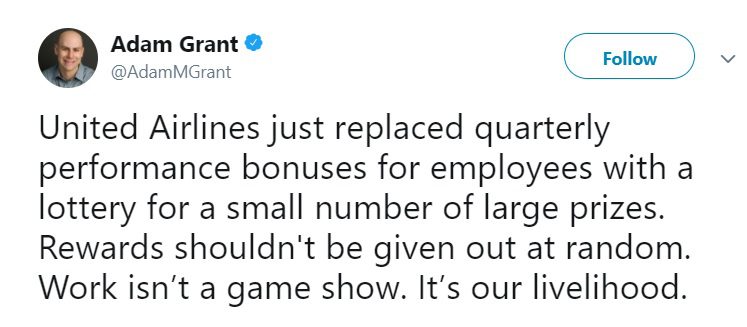 They made the announcement through a memo on Friday. By Monday, the airline's President Scott Kirby put the program on pause. What went wrong? Reviewing the roll-out of the core4 Score Rewards program from a negotiation perspective, there is a lot to learn.
---
---
Although United made several errors rolling out the core4 Score Rewards program, their prompt response to employees' concerns showed that the company listened to and cared about the feedback. Rather than sticking with a bad idea out of pride or embarrassment, President Kirby's swift response on Monday moving to "pause" the program may have helped rebuild some trust. If they can learn from the mistakes made during the roll out of this program, they can improve and create an even better program in the process.
All negotiators take action that, in retrospect and from afar, was clearly a mistake. However, the mark a strong negotiator is one's ability to review and learn from those mistakes. Figuring out how to bounce back and reset the stage is a skill in and of itself, and it's something that we can all learn from.
If you enjoyed this article, consider checking out MWI's blog post suggesting books to build on your negotiation skills. Want to build upon the negotiation skills you've read about? Contact Chuck Doran at 617-895-4026 or cdoran@mwi.org to learn more about how MWI can help you become a better negotiator.