January 18, 2018
Books to Build on Getting to Yes & Improve Your Negotiation Skills
By Chuck Doran and Megan Winkeler
So you've read Getting to Yes. Maybe you've even taken a negotiation workshop and learned strategies to prepare for and review negotiations effectively. What's next? How can you continue to build upon your negotiation skills and expertise? In particular, how do you choose what books to focus on when there are hundreds of options available?
We put together the following list of books to help focus your development on each phase of the negotiation process: building awareness, preparing, negotiating, and reviewing your performance. Each book helps hone your skills and build upon what you learned in Getting to Yes, providing you with relevant case studies and approaches to take as you grow your abilities as a negotiator.
---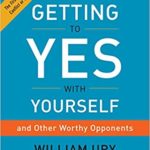 Sometimes, your toughest adversary in a negotiation is yourself. William Ury, drawing on his decades of experience helping people from all walks of life negotiate more effectively, addresses how we act counterproductively in negotiations if we don't understand ourselves first. In a seven-step method outlined in this prequel to Getting to Yes, Ury provides a practical process for building awareness around your own interests and goals in negotiation and what you can do to meet them more successfully.
---
If you haven't taken an MWI Negotiation Skills Workshop and received a negotiation preparation worksheet, you might be struggling to implement the advice from Getting to Yes in a structured way. This follow-up manual organizes the seven-element framework from Getting to Yes in an easy-to-use workbook, making your preparation process more efficient and effective.
---
Even the best negotiators cannot prepare for everything, and it's important to learn how to react in the moment. What do you do if the other side is more powerful or isn't interested in hearing about your side of things? What if the other side is lying or acting unethically? This book provides a wealth of specific advice and case studies to help hone your natural instincts and learn from the success – and failures – of other great negotiators.
---
An essential step in the negotiation process is to review your experience and draw lessons from it. But there's lots of reasons we skip this step – we are busy, we get side-tracked, etc. But often, we struggle to hear critical feedback that might challenge our view of ourselves as effective negotiators. The best negotiators, however, are created over time through a constant commitment to improvement. This book provides advice on how to be more open to feedback – even if it is relayed in a brash or unfair way – and implement it more effectively.
---
Once you have finished all of these books and implemented the advice, ask yourself what skills you still need to improve or which situations continually trip you up. Maybe you have difficulty controlling emotions throughout the negotiation, or perhaps you notice that you are still leaving value on the table. From there, you can focus your development and select books on those specific topics.
If you would like specific book suggestions for different negotiation topics, let us know in the comments below. Happy negotiating!
Improve Your Negotiation Skills
Want to build upon the negotiation skills you've read about? Contact Chuck Doran at 617-895-4026 or cdoran@mwi.org to learn more about how MWI can help you become a better negotiator.