Massachusetts Child & Spousal Support Resources
Calculating child support or other divorce expenses in Massachusetts has never been easier thanks to the many apps and calculators available online or with your local divorce mediation firms. What's more, other divorce-related expenses, i.e., spousal support have dedicated worksheets that are especially helpful for sorting through the clutter!
** The information below pertains to Massachusetts child support guidelines from 2013 – September 14, 2017. For information on the new child support guidelines that start after September 14, 2017, click here. **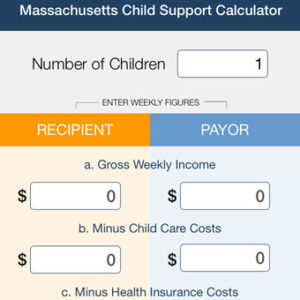 Here are some Massachusetts-based Child Support Apps:
Then there are other resources such as these instructions for Completing the Child Support Guidelines Worksheet, or the printable worksheet provided by the DOR which helps you calculate a Child Support Order online. Should you need to speak with the DOR, contact them at 800-332-2733 0r 617-660-1234 for locals in the Boston area.
Resources for Specific Situations?
Even with the above resources, you may still need a more customized assessment of your child support expenses, if so, try using the child support Findings for Deviation Sheet. This sheet lets you present your specific situation to the Court for assessment and approval. Such situations range from extraordinary medical expenses for your child or a co-parent paying for a larger portion of  a child's college education, to a co-parent's travel expenses for the child. Deviation sheets allow for transparency across legal authorities, and an assurance that the best interests of the child(ren) are maintained through out your divorce proceedings.
What about tools for calculating alimony or spousal support, you ask?
Well, there are some helpful calculators for this aspect of divorce as well. For starters, the Social Security Administration (SSA) provides a retirement age calculator useful for gauging how much alimony to receive or pay. And Goldstein & Bilodeau P.C. offers not one, but two(!) ways to properly calculate alimony. The first lets you calculate the maximum amount and duration of alimony in Massachusetts based on the Alimony Reform Act, which took effect on March 1, 2012. While the second allows for any tax recapture under the current IRS rules. If you don't mind paying ($1.99) for service, Skylark allows you to save and email your calculations for later deliberation. Another fee-based resource is the Divorce App (for $1.99, also from Infinity Law) which allows for a comprehensive assessment of your divorce process. It allows for Dropbox integration, PDF generation of court forms, wireless printing and a Russian language option!
MWI is always looking for new ways to help ease the divorce process for our clients. And the above resources do just that.
Schedule a Consultation with a Mediator
Need Even More Help?
Should you need more resources to calculate or reach agreement on child support, MWI can help even further. We discuss child support  and divorce resources as part of our divorce and family (never married parents, post-divorce) services. Depending on the needs of our clients, MWI mediators can also help parents explore and reach agreement on:
Parenting Schedules
Parenting Time during

school vacations
summer
holidays

Moving
Traveling
Health Insurance coverage for the children
Child Tax Credit
Education
Activities, Lessons, Tutors, Camps and more
About the Authors
Adepeju O. Solarin is a Harvard PON Fellow (2016-17) specializing in restorative justice and mediation approaches. A Dialogue Systems Specialist, she has given interviews, presentations and lectures in several countries including Croatia, Germany and Turkey. Presently, she works as a Program Assistant as part of an internship at MWI. For more information about internships at MWI click here.
Josh Hoch is MWI's Director of Mediation Services. He serves as a divorce mediator in Boston, learn more here. He can be reached at 617-895-4028 and jhoch@mwi.org.