MWI Room Rental Overview
MWI has space available for mediations, workshops, and large meetings at its offices at:
10 Liberty Square – 4th Floor
Boston, MA 02109


---
MWI's space consists of the following rooms:
Meeting room – for mediations and general meetings (for up to 8 participants)
Conference room – for trainings and large mediations (for up to 16 participants at one large table; 26 participants seated at individual tables; or up to 36 participants otherwise)
---
Either room includes the following:
Audio Visual (in both meeting and conference rooms, unless otherwise noted)

Skype for Business for video conferencing and webinars;
Full screen LED TVs for PowerPoint, document projection, and other presentations;
Bose speaker system (8 speakers) for enhanced audio for presentations in the conference room.

Free wireless access
Use of additional breakout room (for private sessions, role-plays, and as a waiting room)
Includes coffee, tea, juice, soda and water and ice cream
Use of copier (free for less than 10 impressions and 20c per impression thereafter)
---
Rental rates
Half and full day options between the hours of 9-5, unless by arrangement. Deposit of 50% due at time of contract.
Meeting room (for up to 8 participants)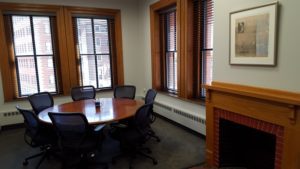 – half day (9-1 or 1-5) – $400 flat fee
– full day (9-5) – $800 flat fee
– per hour (beyond 8 hrs) $150 hr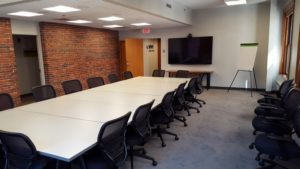 Conference room (for up to 36 participants)
– half day (9-1 or 1-5) – $600 flat fee
– full day (9-5) – $1200 flat fee
– per hour (beyond 8 hrs) $200 hr
Cancel/Reschedule
More than 72 hours – no-fee
Between 72 and 24 hours – deposit
Less than 24 hours – full rental fee
---
Questions and to inquire about availability, please contact Chuck Doran at cdoran@mwi.org or 617-973-4026