August 6, 2021
MWI Ombuds becomes a Certified Organizational Ombuds Practitioner (CO-OP)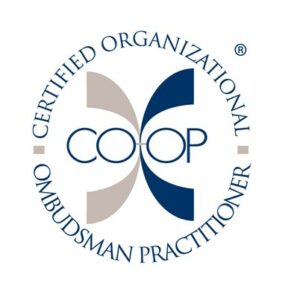 MWI Outsourced Ombuds Panel Member Chuck Doran became a Certified Organizational Ombuds Practitioner (CO-OP®) with the International Ombuds Association (IOA) in July 2021.
Applicants must pass a 100+ question exam that tests the applicant's ability to navigate challenges faced by ombuds as well as their knowledge of IOA's Standards of Practice and Code of Ethics. In addition, an applicant must meet all educational and experience-based requirements.
The application process concluded with Doran participating in a one-on-one interview with a member of the Board of Certification Committee which resulted in the Committee unanimously agreeing to advance his application to the CO-OP Certification Board for approval.
---
Here is an overview of the Eligibility Requirements for CO-OP® from the IOA website:
Written Examination: An applicant must have passed the written certification exam within three years prior to the date of receipt of the application for certification. There are no training, educational, or work experience requirements needed to register for and sit for the certification exam. The certification application requires a copy of the certification exam results statement documenting the date of passing the examination. Passing the exam is only one piece of the process to become certified.
Education: Certification requires a bachelor's degree or equivalent from an accredited institution of higher education. Those who do not hold a bachelor's degree may submit evidence of a comparable university degree. The Eligibility Committee may also consider relevant professional experience or academic work in place of a bachelor's degree. Applicants may submit proof of relevant professional experience to the Eligibility Committee for individual consideration.
Work Experience: Applicants must present evidence of experience working as an organizational ombudsman for one year or 2,000 hours, performing the full scope of ombuds duties and adhering to the IOA Code of Ethics (COE) and Standards of Practice (SOP), within four years prior to receipt of application. In order to demonstrate work experience, the candidate should submit copies of all of the following:

an office charter and/or brochure
reference to an office website, job description, and standards of practice
verification of length of employment from the relevant employer(s) of record.
a representative of the Eligibility Committee may contact an applicant if additional information or clarification of submitted information is required.

An individual who has passed the examination, but who does not meet the other eligibility requirements for certification, may not claim to hold the CO-OP® designation. If an applicant meets all eligibility requirements with the exception of practicing fully to the IOA COE and SOP, they may be eligible for the Candidate for CO-OP® designation. Any individual who uses the CO-OP® designation before having been awarded certification by the Board of Certification may be ineligible for certification in the future.
---
For more information about MWI's Outsourced Organizational Ombuds Services, please visit www.mwi.org/ombuds or send an email to ombuds@mwi.org.