Parent Education Programs
MWI provides court-approved Parent Education Programs for parents seeking divorce, to establish paternity, and for complaints for modification or contempt. Use the form below to register for court-approved parent education programs at MWI in Boston. After you register, you may pay the $80 fee online, via phone, or in person before the program start date. For answers to common questions about the program, watch this video, contact Josh Hoch at 617-895-4028 or Vanessa Linsey at 617-895-4027.
---
Upcoming "Better Parent" Court-Approved Parent Education Programs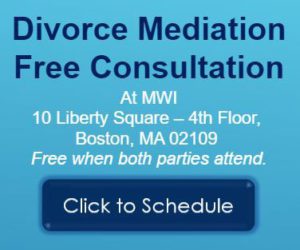 2019 Parent Education Program Dates and Times
All programs take place at 10 Liberty Square, 4th Floor, Boston, MA
November 19 & 21, 2019 from 12:30 PM to 3:00 PM
December 11 & 13, 2019 from 10:15 AM to 12:45 PM
January 13 & 15, 2020 from 12:00 PM to 2:30 PM
---
Parent Education Program Registration
---
Helpful Tips for Parents
Children and guests may not come to MWI, no exceptions.
These programs are court-approved.
You may not attend the same program, at the same time, as your co-parent.
You will receive a yellow Certificate of Attendance at the end of the program.
You must attend both 2.5 hour classes (total of 5 hours) to receive a certificate.
The cost of the program is $80.00. If you miss the second class, there is a $40.00 fee to schedule another second class.
If you need an extra certificate, there is a fee of $15.00.
Many parents with DCF involvement also participate in these classes. Parents should check with their DCF social worker if this class meets the specific needs DCF would like you to address.
Although MWI's classes take place in Suffolk County, anyone in Massachusetts may participate and the court will accept the certificate for your divorce or paternity action.
---
Directions & Parking

–

 MWI's 

Court Approved Parent Education Programs take place at:
MWI, 10 Liberty Square, 4th Floor, Boston, MA, 02109
Steps from the T, meter parking, and garage parking
For directions and parking, click here
---
Learn About Mediation
MWI offers cost-effective mediation services for parents. Mediation helps parents reach agreement on parenting time (visitation), child support, and other topics important to parents. Schedule a free consultation.
---
For More Information
Contact Josh Hoch at 617-895-4028 or Vanessa Linsey at 617-895-4027 with questions or to register over the phone.